Experience the holiday atmosphere of the 4* superior themed hotel 'Bell Rock'!
The red and white lighthouse stands as the proud, graceful symbol of the 4* Superior Hotel 'Bell Rock' to guide travellers to a safe harbour for their holiday. The New England style promises an expedition into early America – rooms flooded with light, maritime accessories, high-quality antiques and opulent works of art.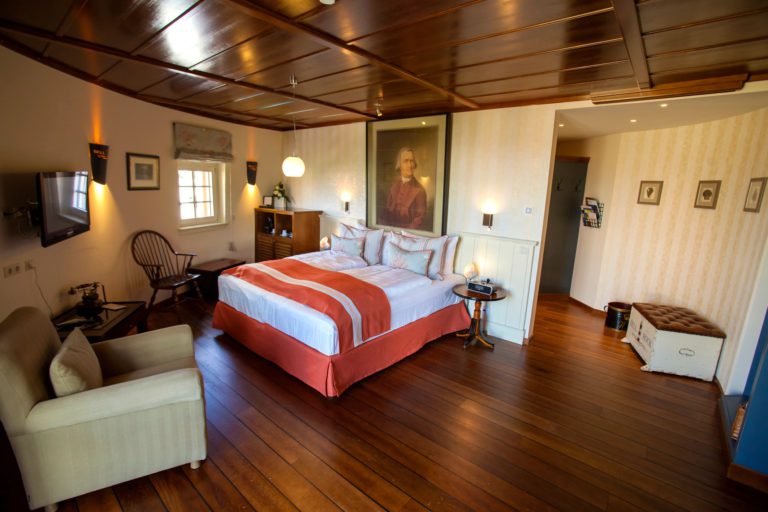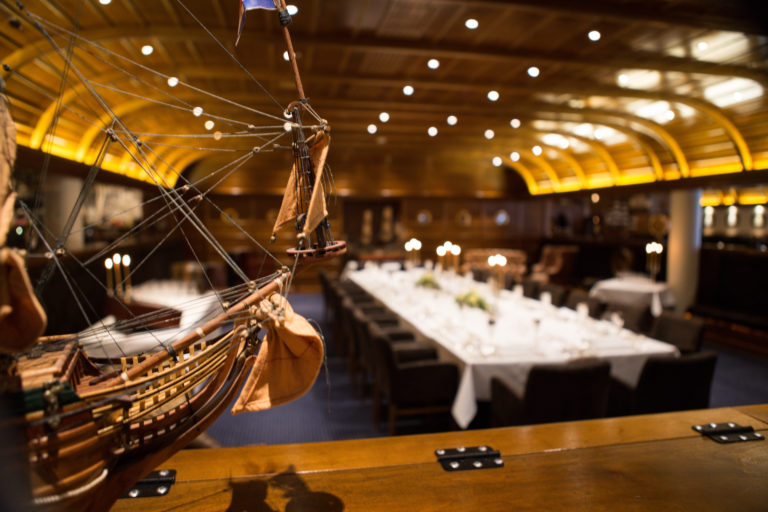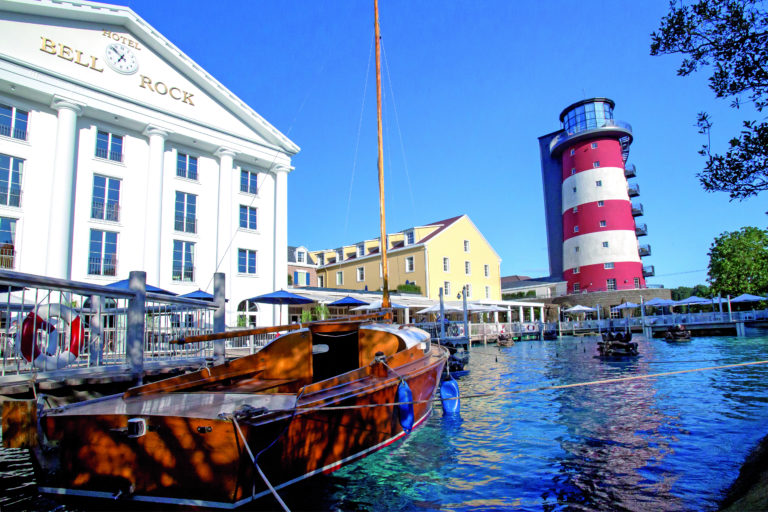 Culinary

Three restaurants offer a wide array of culinary treats: the excellent 'Harborside' buffet with integrated front cooking area and open grills, the service restaurant 'Captain's Finest', and the fine dining restaurant 'Ammolite – The Lighthouse Restaurant' with a visible kitchen area. No wish will be left unfulfilled! Only two years after opening, the 'Ammolite' has already been awarded 2-Michelin-stars and 16 Gault&Millau points. In December 2016, head chef Peter Hagen-Wiest and his team were able to reaffirm this achievement. The 'Ammolite' is the world's only 2-star theme park restaurant. The 'Spirit of St. Louis' café-bar with outside terrace completes the astounding catering offer.

Fitness & More

The New England style exercise area is sure to thrill endurance sports fans aged 16 and up. Besides the fully equipped fitness room, there are two training areas for exercise classes. Hotel guests are welcome to take part in the diverse range of courses on offer at the Europa-Park Talent Academy or participate in intensive EMS training under the guidance of a personal trainer.

Wellness & Spa

After that, the 'Bell Rock' wellness and spa area will tempt with its many options for relaxation. The natural effects of the sea emerge through massages and exfoliation. Special body wraps using natural ocean products refresh both body and soul.

Admission prices (when staying overnight at the Europa-Park Hotels)

1-day Admission Ticket | Children: 42,50 € | Adults: 49,50 €

2-day Admission Ticket | Children: 80,00 € | Adults: 94,00 €

3-day Admission Ticket | Children: 100,00 € | Adults: 119,00 €

General Information

In Summer Season 2018 from 24 March until 4 November 2018, daily from 9am to 6pm (longer opening hours may apply during peak season).

In the Winter Season 2018/2019 Europa-Park is open from November 24, 2018 - January 06, 2019 as well as January 12/13, 2019, daily from 11am to 7pm (excl. 24/25 December 2018).

The price category is defined by the number of paying visitors over 4 years of age.
Children under the age of 4 sleep in their parents' bed free of charge (max. one child in parents' bed possible).
Cots available on request (€6/day). The price of a separate bed for children under 4 years is €15/day.
The price reduction for children in a multi-bed room requires the presence of at least one adult in the room.
When booking a room for several persons, accommodation will be in one bedroom, a right for separate bedrooms does not exist.
Daily arrival possible. Check-in starting at 3.30pm, check-out until 11am.
All rooms and themed suites are non-smoking areas.
Including sumptuous breakfast from 7am until 10am.
All Restaurants in the Hotels are open for dinner from 6 until 10pm.
For hotel guests some of the attractions are opened already 30 minutes before the official opening hours of the park (valid admission ticket required).
Parking inclusive for hotel guests, shuttle service available on request (closest train station: Ringsheim).
Including the use of the pool and the sauna areas, Fitness club – massage and solarium with extra charge!
Incl. Children's area in the restaurants; changing program for children and adults; free Internet.
Sales only at the mentioned gross prices.
All prices include VAT.
On behalf of the town of Rust, we are obliged to collect a visitor's tax of approx. €1 per adult/child from 12 years and per night!
B&B: Bed & Breakfast

Good to Know

The hotel reception desks accept in addition to cash the usual credit cards (American Express, Diners Club, MasterCard, Visa), debit cards as well as our Europa-Park 'Emotions' gift card as payment methods
Cashless payment is possible in all shops of Europa-Park. Most restaurants and snack bars accept payment by debit card, credit card as well as our Europa-Park 'Emotions' gift card.

Hotel guests may also exchange the following currencies at the reception desks at the daily rate: CAD, CHF, DKK, GBP, NOK, SEK, USD.

Do you suffer from an allergy and need hypoallergenic bedding? We will be happy to supply your booked room with appropriate bedding. At the hotels 'Bell Rock',  'Santa Isabel' and 'Castillo Alcazar', you will find hypoallergenic bedding in all rooms (except suites) as a matter of principle.
Bespoke | Reliable | Discreet
Booking with Hayat Black Forest

Bespoke Holiday

It is our pleasure to create your individual holiday package based on your hotel choice and desired services, such as airport transfer, rental car, trips, and more.

Individual Holiday Booking

You can also book your hotel room without any additional service. If needed, you still have the opportunity to make use of our services after your arrival in the Black Forest.
Themed Rooms & Suites
Follow in the footsteps of the Pilgrim Fathers and discover the historical and cultural roots of New England, USA. Luxury is plentiful across our unique themed rooms and relaxing fitness, wellness, and spa areas. Whilst our restaurants serve a delicious selection of both international and regional specialities.
All Rooms & Suites: Air-conditioned (May until September), safe, shower/toilet, hair dryer, desk, telephone, free high-speed internet access (Wi-Fi). All rooms are non-smoking.

Room Categories

Standard Room | 1-6 persons

Air-conditioned (May until September), safe, shower/toilet, hair dryer, flat screen, desk, telephone, free high-speed internet access (Wi-Fi). All rooms are non-smoking.

For free: 2 bottles of water 0.5l for welcoming
Room size: approx. 28 m²
Maximum number of persons: 6

"Comfort" Room | 1-6 persons

Air-conditioned (May until September), safe, shower/toilet, hair dryer, flat screen, desk, telephone, free high-speed internet access (Wi-Fi). All rooms are non-smoking.

For free: 2 bottles of water 0.5l for welcoming
Special features: balcony or terrace, room size: approx. 24-36 m²
Maximum number of persons: 6

"Deluxe" Room | 1 - 4 persons

Air-conditioned (May until September), safe, shower/toilet, hair dryer, flat screen, desk, telephone, free high-speed internet access (Wi-Fi). All rooms are non-smoking.

Special features: separate children's area with bunk beds, iHome radio alarm-clock

For free: 2 bottles of water 0.5l for welcoming
Room size: approx. 32 m²
Maximum number of persons: 4

Suites

Themed Suite | 1-4 persons

Special features: 1 bedroom with double bed, 1 living room with bunk bed, partially bathtub, separate toilet, iHome radio alarm-clock, up to 2 flat-screen TV, box-spring beds, high quality bedding from Mühldorfer, minibar

For free: coffee machine, 1 bottle of water 0.75l for welcoming
Room size: approx. 43-52 m²
Maximum number of persons: 4

Penthouse Suite | 1-6 persons

Special features: 2 bedrooms with double bed and a bathroom, 1 living room with bunk bed, bathtub, separate toilet, iHome radio alarm-clock, 3 flat-screen TV, box-spring beds, high quality bedding from Mühldorfer, bathrobe, minibar

For free: coffee machine, 1 bottle of water 0.75l and fruits for welcoming
Room size: approx. 66-74 m²
Maximum number of persons: 6

Presidential Suite | 1-6 persons

Special features: 2 bedrooms with double bed, 1 living room with bunk bed, 2 floors, 2 bathrooms, bathtub, 2 separate toilets, , iHome radio alarm-clock, 2 flat-screen TV, box-spring beds, high quality bedding from Mühldorfer, minibar

For free: coffee machine, 1 bottle of water 0.75l and fruits for welcoming
Room size: approx. 66-71 m²
Maximum number of persons: 6

Junior Suite Abraham Lincoln | 1-4 persons

Special features: On the 7. floor, balcony, 1 bedroom with double bed, 1 living room with bunk bed, separate toilet, iHome radio alarm-clock, 1 flat-screen TV, box-spring beds, high quality bedding from Mühldorfer, exclusive Christian Fischbacher bed linen, bath robes

For free: minibar, coffee machine, kettle and tea, 1 bottle of water 0.75l and fruits for welcoming, Molton Brown beauty products

Room size: approx. 28 m²

Maximum number of persons: 4

Lighthouse Suite in the Lighthouse | 1-4 persons

Special features: balcony, 1 bedroom with double bed, 1 living room with bunk bed, separate toilet, iHome radio alarm-clock, 1 flat-screen TV, box-spring beds, high quality bedding from Mühldorfer, exclusive Christian Fischbacher bed linen, bath robes

For free: minibar, coffee machine, kettle and tea, 1 bottle of water 0.75l and fruits for welcoming, Molton Brown beauty products
Room size: approx. 38-49 m²
Maximum number of persons: 4
Offers you also might be interested in
Black Forest | France | Switzerland
The Surrounding