Villa Stephanie - For Relaxing Breaks of the highest Standard
Harmoniously nestled in the natural splendour of a private park and the Lichtentaler Allee, the Villa Stéphanie is located in the immediate vicinity of Brenners Park-Hotel & Spa, the principal hotel in the renowned Oetker Collection.
The comprehensive spa concept reflects the hotel's decades of experience and expertise in the beauty spa and medical sectors and ensures both highly professional and effective results of the highest international standard. As a holistic destination spa, the Villa Stéphanie places great emphasis on nutrition coaching and digital detox, thus underlining the importance and revitalising effects of a balanced diet and healthy sleep. You will leave with the desire to return.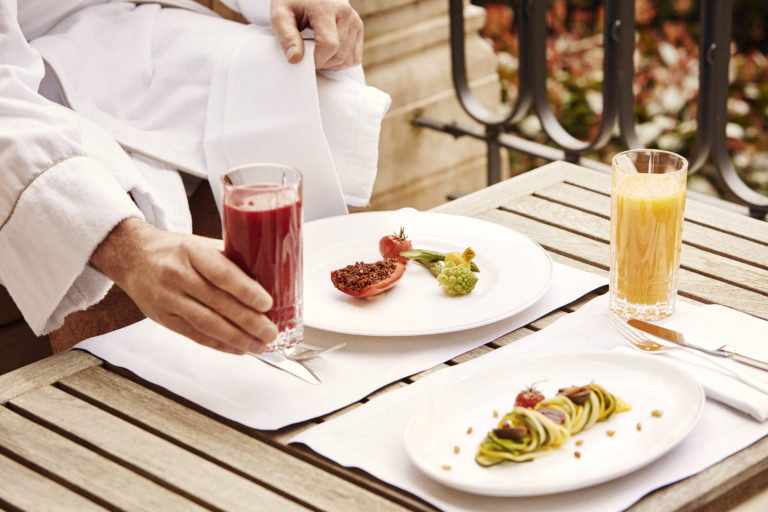 Day 1 - Brenners weight loss, Yoga
Brenners Weight Loss – The Future is Healthy

The Brenners Park-Hotel & Spa does not only offer outstanding spa facilities for a vitalizing stay, but also a host of qualified and experienced employees, who are experts in nutrition coaching and fitness. During a thorough body analysis, your personal fitness and nutrition expert will assess your body and give you nutrition and training counsel.

Yoga – Allow yourself to find the tranquility you are looking for

The yoga sequences detoxify, solve shortenings and tensions at the muscular and fascial level, promote coordination, body awareness, mental rest and serenity. Let our yoga coaches guide you in a world of peace and relaxation.

Individual menu compositions

Let the day end with an exclusive Detox menu in ourrestaurant Wintergarten. A health-conscious diet will provide you with new energy and mental freshness. We will devise a well-balanced and extremely tasty menu plan from your favourite dishes. Choose either the 'extra healthy' or calorie-reduced variation. Bespoke menus are created with passion and knowledge by the Brenners chefs.

For a restful night's sleep

Ensure a high level of relaxation during your beauty sleep. As a guest in the Villa Stéphanie, you have the possibility to disconnect your room or your suite from the electricity grid or WiFi by pressing a button on your bedside table.
Day 2 - Alkaline Bath, Aqua Detox Full Body Treatment
Spa breakfast – Enjoy starting the day with something special

Wake up in one of our uniquely decorated rooms and enjoy an energizing spa breakfast in the Salon Lichtental.

Alkaline bath – for cleaning and detoxifying

Deacidify your body through an alkaline bath. It supports detoxification processes and encourages the natural balance of the skin. Two main causes of hyperacidity are a one-sided diet as well as an unhealthy lifestyle.

Individual meals

Discover the variety of our Wintergarten restaurant with a lunch composed of vegan, gluten-free or detox dishes.

AQUA ORGANIC Detoxifying full body treatment

Detoxify from head to toe. A peeling from organic rice bran oil and salt from the Dead Seastimulates your blood circulation and the detoxification process. A chlorella algae pack strengthens the detoxification and directs toxins through the skin. During the exposure time, we will pamper you with a moisturizing treatment and a lymphatic drainage.

Spa Snack

Visit our Spa Lounge Villa Stéphanie and try our vitalizing teas and light spa snacks.
Day 3 - Yoga, Massage Menu, Phytaromatic Facial
Yoga – Peace and serenity

Recharge your energy during a Yoga lesson in the inspiring surroundings of Villa Stéphanie. Pamper your body for relaxation.

Massage Menu – from head to toe

After an extensive breakfast, you can enjoy a tailor-made massage. During this unique treatment, our massage experts combine their individual massage techniques to form a special, highly effective massaging style. Each stroke is tailored to your particular needs, resulting in either vitality or relaxation being returned to your body from head to toe. Devised by our experts with love and devotion.

Sisley Phytoaromatique Facial – Know-How from around the world

Savour the world of aromas in combination with relaxing massages. The phytoaromatique treatments combine massage rituals from around the world with the know-how and experience of a high-tech brand to allow vitality to be restored to your body and soul. Local traditions and the power of aromatherapy provided the bases for the development of the different massage techniques. Your skin will become supple, strengthened and will permanently win back its radiance.
Terms & Conditions
Subject to availability
Daily:
Spa-Cuisine full board – Daily indulgence
Our chefs are delighted to prepare your own individual meals comprising breakfast, 3-course lunch menu and 3-course evening meal, delicious cuisine, all based on the nutritional recommendations for your needs.
Spa facilities
Benefit from our 120 m² of fitness center with modern cardio and fitness machines, 500 m² sauna area with integrated ladies sauna, plunge pool with lounge area, pool in Roman style with views over the famous Lichtentaler Allee, lawn in the private Park and beauty spa with gorgeous treatment rooms.
Fitness activities
Up to 11 different offers weekly: Aqua Fitness, Nature Experience, Hiking and much more.
Be inspired by this film featuring highlights of a refreshingly healthy break in Baden-Baden and your stay in Villa Stéphanie.