Experience the holiday atmosphere of the 4* superior themed hotel 'Colosseo'!
Benvenuti in bella Italia! The Italian 4* Superior Hotel 'Colosseo', open to guests all year round, is perfect for those with a vivacious zest for life. The 'Colosseo' is the largest individual hotel in southwestern Germany. It features restaurants, conference rooms and the 'Aqua Romana' inside the walls of the specially designed Roman Colosseum.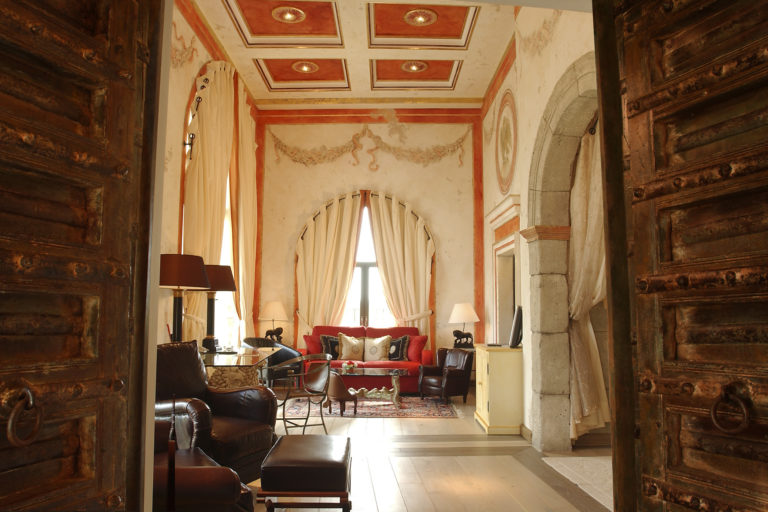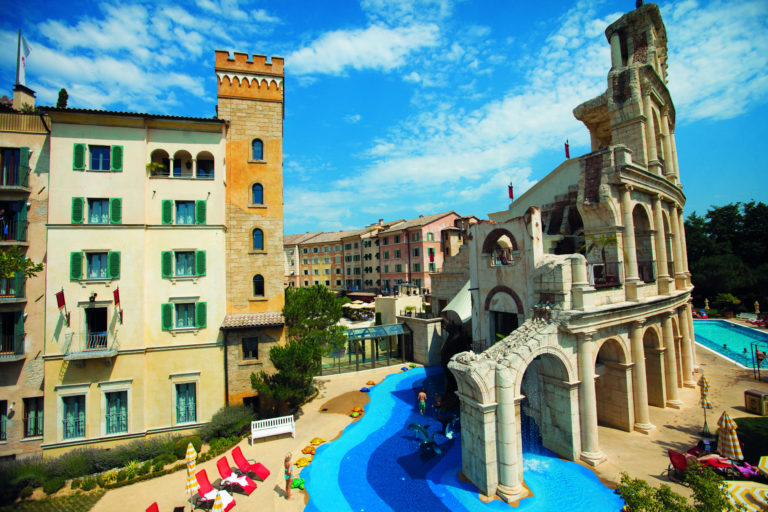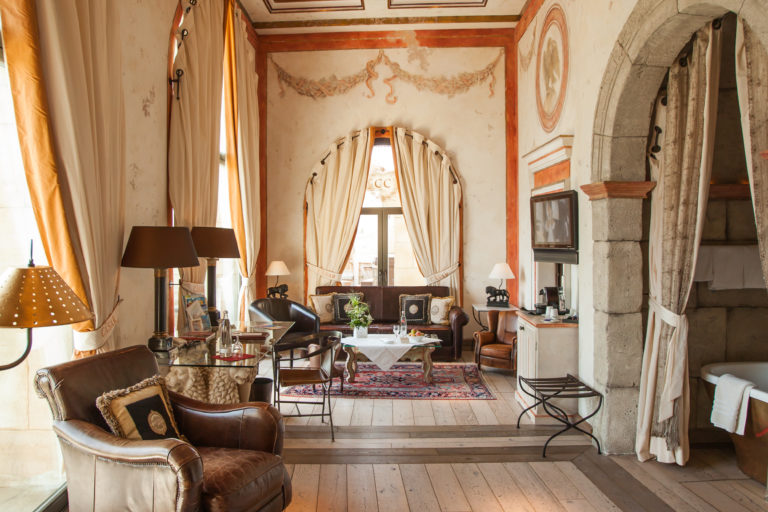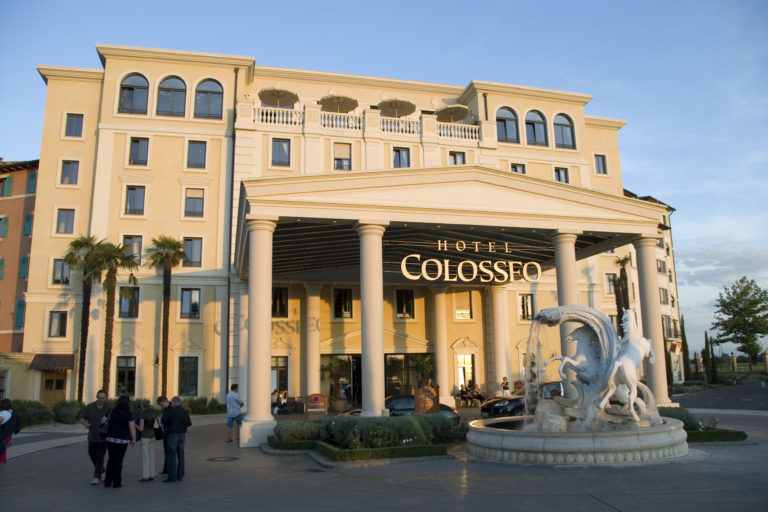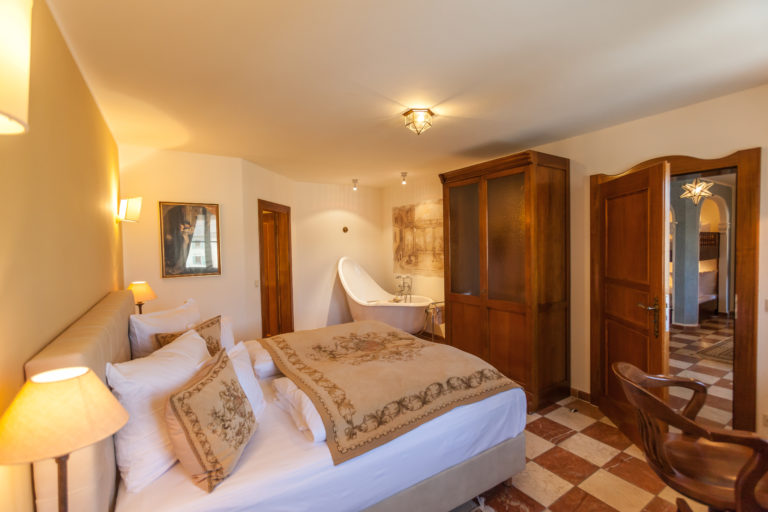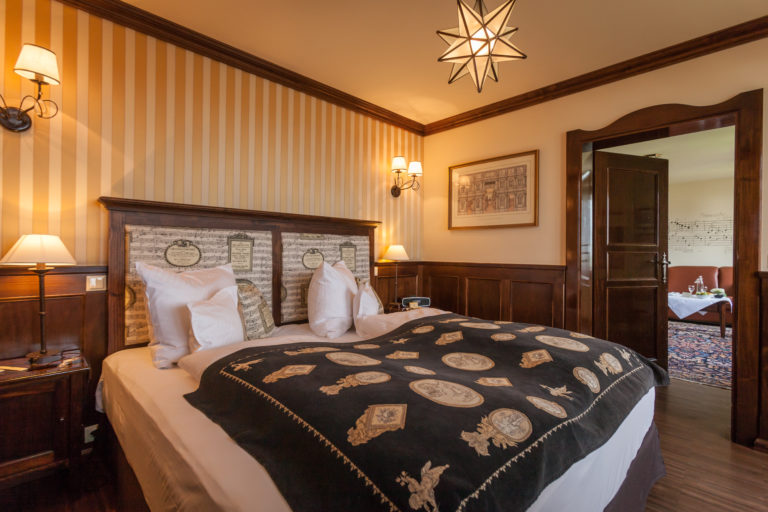 Culinary

Cafés invite them to while away the time and, in the shade of large sun umbrellas, they can relax and watch the hustle and bustle on the Piazza. If they take a look at the Italian style buildings, their gaze will linger on the balcony of the stylishly decorated 'Bar Colosseo' on the fifth floor.

Wellness & Spa

A large outdoor pool (with indoor entry), a sauna complex and the luxurious wellness and spa area offer unbridled relaxation just like in the time of Caesar. Imperial luxury waits in the four lavishly decorated VIP suites within the curves of the Colosseum.

Admission prices (when staying overnight at the Europa-Park Hotels)

1-day Admission Ticket | Children: 42,50 € | Adults: 49,50 €

2-day Admission Ticket | Children: 80,00 € | Adults: 94,00 €

3-day Admission Ticket | Children: 100,00 € | Adults: 119,00 €

General Information

In Summer Season 2018 from 24 March until 4 November 2018, daily from 9am to 6pm (longer opening hours may apply during peak season).

In the Winter Season 2018/2019 Europa-Park is open from November 24, 2018 - January 06, 2019 as well as January 12/13, 2019, daily from 11am to 7pm (excl. 24/25 December 2018).

The price category is defined by the number of paying visitors over 4 years of age.
Children under the age of 4 sleep in their parents' bed free of charge (max. one child in parents' bed possible).
Cots available on request (€6/day). The price of a separate bed for children under 4 years is €15/day.
The price reduction for children in a multi-bed room requires the presence of at least one adult in the room.
When booking a room for several persons, accommodation will be in one bedroom, a right for separate bedrooms does not exist.
Daily arrival possible. Check-in starting at 3.30pm, check-out until 11am.
All rooms and themed suites are non-smoking areas.
Including sumptuous breakfast from 7am until 10am.
All Restaurants in the Hotels are open for dinner from 6 until 10pm.
For hotel guests some of the attractions are opened already 30 minutes before the official opening hours of the park (valid admission ticket required).
Parking inclusive for hotel guests, shuttle service available on request (closest train station: Ringsheim).
Including the use of the pool and the sauna areas, Fitness club – massage and solarium with extra charge!
Incl. Children's area in the restaurants; changing program for children and adults; free Internet.
Sales only at the mentioned gross prices.
All prices include VAT.
On behalf of the town of Rust, we are obliged to collect a visitor's tax of approx. €1 per adult/child from 12 years and per night!
B&B: Bed & Breakfast




Good to Know

The hotel reception desks accept in addition to cash the usual credit cards (American Express, Diners Club, MasterCard, Visa), debit cards as well as our Europa-Park 'Emotions' gift card as payment methods

Cashless payment is possible in all shops of Europa-Park. Most restaurants and snack bars accept payment by debit card, credit card as well as our Europa-Park 'Emotions' gift card.

Hotel guests may also exchange the following currencies at the reception desks at the daily rate: CAD, CHF, DKK, GBP, NOK, SEK, USD.

Do you suffer from an allergy and need hypoallergenic bedding? We will be happy to supply your booked room with appropriate bedding. At the hotels 'Bell Rock',  'Santa Isabel' and 'Castillo Alcazar', you will find hypoallergenic bedding in all rooms (except suites) as a matter of principle.
Bespoke | Reliable | Discreet
Booking with Hayat Black Forest

Bespoke Holiday

It is our pleasure to create your individual holiday package based on your hotel choice and desired services, such as airport transfer, rental car, trips, and more.

Individual Holiday booking

You can also book your hotel room without any additional service. If needed, you still have the opportunity to make use of our services after your arrival in the Black Forest.
Themed Rooms & Suites
Relax and enjoy the charming atmosphere of Italy! The themed hotel "Colosseo" is designed in the style of ancient Roman architecture. It features beautifully designed Roman-Italian hotel rooms, typical Italian restaurants, bars and cafés. Relax in the breathtaking wellness area with sauna and pool inside the walls of the Coliseum!
Room Categories

Standard Room

For free:  2 bottles of water 0.5l for welcoming


Room size: approx. 27m²

Maximum number of persons: 6

"Standard Plus" Room

Special features: View over the inner courtyard, the lively "Piazza Roma"


For free:  2 bottles of water 0.5l for welcoming

Room size: approx. 27m²

Maximum number of persons: 6

"Deluxe" Room

Special features: View over the inner courtyard, the lively "Piazza Roma", 1 living room with double bed , 1 separate children bedroom with bunk beds

For free:  2 bottles of water 0.5l for welcoming

Room size: approx. 32-37 m²

Maximum number of persons: 6

Suites

Junior Sweet

Special features: View over the inner courtyard, the lively "Piazza Roma", 1 bedroom with double bed and a sofa bed, iHome radio alarm-clock, minibar

For free: coffee machine, 1 bottle of water 0.75l for welcoming

Room size: approx. 31 m²

Maximum number of persons: 2

Themed Suite

Special features: 1 bedroom with double bed, 1 living room with bunk beds and a sofa bed, bath room with shower and bath tub, separate toilette and children's toilette, iHome radio alarm-clock, 2 flat screens, minibar

For free: coffee machine, 1 bottle of water 0.75l for welcoming, daily newspaper

Room size: approx. 37-50 m²

Maximum number of persons: 4

Presidential Suite

Special features: Balcony, 2 bedrooms with double bed and a bathroom (not all bathrooms have a toilet), 1 bathtub in one of the rooms, 1 living room with sofa / seating area and bunk beds, separate toilet and a children's toilet, iHome radio alarm-clock, three flat-screen TV, minibar

For free: coffee machine, 1 bottle of water 0.75l for welcoming

Room size: approx. 62-77 m²

Maximum number of persons: 6

Suite "Reale" in the arch of the Coliseum

Special features: 2 balconies, 1 bedroom with double bed, 1 living room with sofa / seating area and bunk beds, bathtub, iHome radio alarm-clock, two flat-screen TV, minibar

For free: coffee machine, 1 bottle of water 0.75l and fruits for welcoming

Room size: approx. 55 m²

Maximum number of persons: 4

Suite Caesars & Cleopatra i.th. arch o.th. Coliseum

Special features: Balcony with private whirlpool and sauna, air-conditioned, 2 bedrooms with double bed and a bathroom, 1 living room with lounge seating area and a freestanding golden music-bathtub, iHome radio alarm-clock, four flat-screen TV, minibar

For free: coffee machine, 1 bottle of water 0.75l and fruits for welcoming

Room size: approx. 83 m²

Maximum number of persons: 4